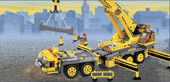 Custom in Progress!
This custom is not yet finished and is being modified by its creator, Lego721, and may undergo critical changes while this message remains in place.
The Marvel Cinematic Universe (MCU) or Earth-199999, is an unofficial sub-theme of Marvel. This includes the films: Iron Man, The Incredible Hulk, Iron Man 2, Thor, Captain America: The First Avenger, The Avengers, Iron Man 3 and Thor:The Dark World.
Iron Man
Summary
Non-Physical Minifigures
The Avengers
Summary
Minifigures
Non-Physical Minifigures
Thor: The Dark World
Community content is available under
CC-BY-SA
unless otherwise noted.