Customs Article


This article describes a custom creation, custom theme, or other fan material, made by a Brickipedia contributor. It has never been, is not, and will not be officially released.

Lord V. Vesper Vampyre is a custom Monster Fighters villain created by Omega X.23
Description
The redesigned Lord Vampyre has a dark red coat and armor. He holds a improved Quanton 2.0 gun.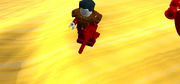 The second version of Lord Vampyre has a midnight blue coat and cloak. He holds a staff of power.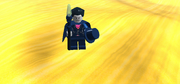 The third version of Lord Vampyre is dressed in black and holds a yellow sword and a jewel. He has a grinning expression.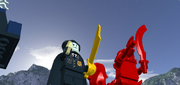 Background
After eclipsing the sun, Lord Vampyre now plans to invade the Mortal Realm. In order to do that, he has to collect the power crystals to power the Midnight Clock, the portal into the Mortal Realm, situated in the Monster Fighters HQ.
Notes
He now drives in a sleek limo.
Appearances
Custom: Tick Tock
Custom: Monster Fighters HQ
Community content is available under
CC-BY-SA
unless otherwise noted.