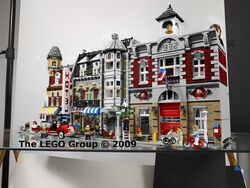 Some Brickipedian have formed a project to improve all articles related to the Modular Buildings theme. If you wish to join, feel free to add your name to the list of members below!
Goals
Get all articles on the sets to be least C1 status.
Get the theme's article to at least C1 status.
Get the articles on the Minifigures to be at least C2 status.
Create inventories for all sets.
Create articles for all of the major parts used in the theme.
Create inventories for every minifigure.
Create reviews for every set in the theme.
Progress
Members
Feel free to put your name down to join!
Rating
If you are not a member of the Quality Check Group (QCG), then request that articles you have improved be upgraded either here, or at any of the various request rating pages.
Requests for rating

Class 5: This article needs immediate attention (stubs, deletion requests etc.)

Class 4: Articles that are (or should be) tagged with maintenance requests and have only few original content, are list-only articles or are not MoS-compliant.
Class 3: Articles that are acceptable but could still need some work (MoS-compliant articles that still lack info or articles that have a lot of content but are not MoS-compliant)
Class 2: These articles are complete

Class 1: This is a good article

Featured: This article has gained featured status

|}
Community content is available under
CC-BY-SA
unless otherwise noted.