WB Has No Direction for Superman | The Loop

Transport Chopper
Item №:

7345

Pieces:

383

Price:
$34.99
€29.99
£24.99
$49.99

Additional prices:

$59.99

Ages:

8-12

Released:
Theme:
7345 Transport Chopper is a Creator set released in 2012. This set includes 383 pieces which makes either an Advanced Build as a Transport Chopper with an off-roader to load, a Medium Build as a seaplane or a Quick Build as a ferry with a truck. The set is recommended for children aged 8 through to 12.
This set appears to be a larger version of 30181 Helicopter.
Set Description
The set includes 383 pieces, mainly in Orange, White, and Black. Two instruction booklets are included, one (which is 76 pages long) for the main model and one (which is 84 pages long) for the secondary models.
Helicopter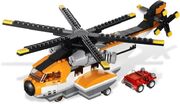 The main model of the set is a large orange, black, and white helicopter with spinning rotors, an opening cargo ramp, and retractable undercarriage. This model also has a small off-roader that can be loaded into the helicopter. The helicopter is 4" (10 cm) tall, 3" (9 cm) wide, and 11" (28 cm) long.
Seaplane

The seaplane is the second model of the set. It uses the same colour scheme as the helicopter and has two spinning propellers and folding pontoon floats. The seaplane is 9" (24 cm) tall, 2" (8 cm) wide (not counting the wings), and 9" (24 cm) long.
Ferry
The ferry is the last model of the set. It uses the same color scheme as the other two models and has an opening loading ramp. This model includes a small truck that can be loaded onto the ferry via the loading ramp. The ferry is 4" (10 cm) tall, 2" (7 cm) wide, and 7" (17 cm) long.
Notes
Although no minifigures are included in the set, one can be placed inside the helicopter's cockpit.
Lego.com Description

This is a description taken from LEGO.com. Do not modify it.
---
Take to the skies and seas with this great 3-in-1 vehicle!

The Transport Chopper is 3-in-1 building at its best! With massive engines, working rotors, an opening back ramp and a fold-away undercarriage, no load is too heavy for this powerful flying machine. Load up the red off-roader and lift off into the skies! When you're ready for another cool model, use the supplied alternative model building steps to rebuild it into a super seaplane or a sturdy ferry with a truck!

• Features massive engines, working rotors, opening back ramp and fold-away undercarriage • A great 3-in-1 building experience – rebuild into a seaplane or ferry with truck! • Load up the off-roader! • Rotate the twin propellers and fold up the pontoons of the seaplane! • Fold down the ramp of the ferry to load the truck! • Transport Chopper measures over 4" (10cm) high, 3" (9cm) wide and 11" (28cm) long • Seaplane measures over 9" (24cm) high, 2" (8cm) wide and 9" (24cm) long • Ferry measures over 4" (10cm) high, 2" (7cm) wide and 7" (17cm) long
Gallery
See also
External links
Community content is available under
CC-BY-SA
unless otherwise noted.