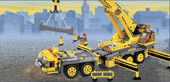 Work in Progress!
A work in progress is being carried out on this page by Grovyle4life, and may undergo critical changes while this message remains in place.
As a courtesy, please contact the user before making edits on this page.
If this template has been on the page for over one week, it may be removed.
Attack from the Sea
Item №:

65767

Pieces:

305

Minifigures:
Price:

$30 USD

Released:
Theme:
65767 Attack from the Sea is a Knights' Kingdom II set introduced in 2006. It included 4 minifigures.